Senior Leadership Team
Sara White -Principal
My teaching career started quite late in life following 9 years in the Derivatives world within the City of London. Realising that stocks and shares were not for me, I enrolled onto a BEd degree. I spent my first few months as a supply teacher working in a variety of schools including a school for children with profound and multiple needs – this led to my interest in everything SEND. Following three years in a Dartford Junior School, I felt ready for the challenge of inner city London and ended up teaching at my own primary school on a South East London estate. I was employed as a class teacher and took on my first role here as a SENCo. During my time at this school, I learnt the value of relationships. Every child deserves someone to believe in them, listen to them and tell them that they matter. I saw children from the toughest backgrounds learn, succeed and feel proud of their achievements. In 2004, I joined another Dartford school called Temple Hill. Little did I know that 12 years later, I would have undertaken the roles of SENCo, Deputy Head Teacher and then Head of School! I went on to lead my second school West Hill, in 2016. This school will always have a special place in my heart as the improvement journey brought us together as we faced challenges and celebrations along the way. I joined Bovington in 2020 and feel extremely privileged to be leading such a wonderful school which is full of potential and possibility. Education is constantly changing and evolving; the climate can at times be uncertain. Despite this, children deserve the best. Each child is unique, each child is different, each child is special. We have a huge responsibility to ensure that every child achieves to their academic best, but also comes to school happy, motivated and safe.
Claire Wilson-Woodward -School Business Manager
I have been working at Bovington Academy since 2004 when it was Bovington First School with only 120 pupils, as a part-time Admin assistant. I have worked my way up to now being the School Business Manager with the responsibility for the HR and Finance of the Academy. I have been through all 4 of the Ofsted inspections and have seen many pupils, staff, and changes along the way. I am loving seeing the school return to whence it came and am excited about our journey moving forward. I was in the WRENs for 8 years where I travelled and experienced a different world before settling back at home in Dorset and bringing up my daughter. Outside of school, I love to keep fit attending a gym regularly, I am a keen gardener and find my garden a sanctuary after a day in the office, however, my passion in life is Ballroom dancing and I compete at a Pro-Am level all over the country, and if I had my time again I would do nothing but dance!
Liesel Muraro (Assistant Principal)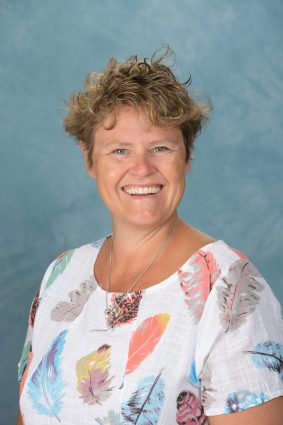 I am the Key Stage 2 lead who can be found sharing my 23 years of experience in Dorchester class every day. I was born and raised on a South African farm. Yes- "I had a farm in Africa!" Straight out of university, I moved to the UK for adventure and culture. After living in London for 8 fun-filled years, traveling the world a few times, I discovered the glorious beaches of Dorset and settled down. I have 2 fabulous children who keep me young and ensure that my knowledge of books stays current. Yes, I love reading! And all things to do with books! Especially children's books! I would love you to come and share your favourite book with me when you see me around the school. I love working with young people for so many reasons but my primary drive is for each child to be the best they can possibly be. I believe it is my job to help them find, nurture and develop their inner awesomeness! But above all- love reading!
Chris Gibson (Assistant Principal)
I started working at Bovington in 2020… a year like no other! I've worked across the primary age range but primarily with Reception and Year 1 children. I think what I like most about working with younger children is just how varied your day can be, one minute you're in the classroom learning number bonds to 10, the next you're outside finding a home for a worm that made its way onto the playground! It's also fantastic to see a child's face when they learn something for the first time.
Teachers
Emma Drake – Teacher
I currently work in Year R in Lulworth Class.  I am now in my 7th year teaching at Bovington Academy and my 21st year of teaching, which has flown by!  During my time at Bovington I have taught in all Year groups. I love finding different ways of delivering and teaching lessons, making sure they are fun and inspiring for all children. My Mum, Grandpa and Granny were all teachers so I followed in their footsteps.  Apart from four years at University I have always lived in Dorset and can't see myself living anywhere else.  I love being near the sea and travelling abroad, but always look forward to coming home.   I enjoy keeping fit by running and exercise classes. Spending time with friends and family, going out for food and drinks is one of my favourite past times and am always up for anything fun!
Sarah Elms – Teacher
I began working at Bovington Academy in 2019 and I have thoroughly enjoyed being part of a great, committed team who genuinely care for the lives of young people. Originally from Hertfordshire, I have moved around the counties in the south before settling with my family in Dorset. I trained in Performing Arts at Winchester University and after having 2 beautiful girls of my own, decided to make the move into teaching. Every day is so different, I particularly value the relationships built with the children and the fun we have whilst learning in the classroom!
Jane Buck – Teacher
After completing a teaching degree in Bath, I taught for 20 years both in the UK and Africa. I then had a career change and managed a nursery and preschool as well as caring for elderly relatives. During this time I trained as a Forest School Leader and then started to work at Bovington leading Forest School sessions. I decided to return to the classroom full time in September 2021 and welcomed the opportunity to teach at Bovington.
Chris Rudd – Teacher
I've worked within education for a number of years now, primarily working within schools specialising in SEN and students with learning behaviours. I've thoroughly enjoyed this challenge and the skills that I have gained and look forward to bringing that to Bovington. Joining for the 2021/21 academic year I come feeling a sense of warmth and commitment between the staff, investing interest and dedication into making sure that pupils' learning experiences are prioritised. Outside of the classroom, you can find me keeping up to date with a wide range of sports, vesting a particular interest in Tottenham Hotspurs. I enjoy cooking and getting into the kitchen when I have the time to, exploring the different flavours and combinations. I particularly enjoy Mexican food and worked as a chef before and during my university experience.
Verity Painter – Teacher
I am currently teaching Year 5 in Wareham Class, after joining Bovington in November 2021. I grew up in Kent and went to Bangor, Wales in 2009 to study for my undergraduate degree in Religious Studies; from there I spent a year travelling abroad, living out of my backpack and looking for adventure! Afterwards, I lived and worked in London in the charity sector for a number of years before being drawn to the beauty of the Dorset coast and the possibilities of teaching. I am now in my second year of being a teacher and love the creativity and variety of being part of a school community. I love teaching! Helping a child to understand something new and seeing their confidence grow is a wonderful feeling, and I believe my job is to enable every child to live up to their amazing potential.
Pusmeena Ward – Teacher
I've been teaching for over 12 years now (I can't quite believe it!) and have taught all over England. Starting my career and teacher training in London, where I grew up, and then moving to Manchester where I taught in a number of different schools and all the year groups! I loved living and teaching in Manchester and was there for over 10 years. In 2016, my husband and I made the big move to Devon, where I taught in another great school with nearly 500 children! We spent 5 years living in Devon before having to move again as my husband was drafted to Bovington Camp (sound familiar?). I joined Bovington Academy in 2022 and still have a passion for teaching and seeing those light bulb moments in children as something you have taught them clicks! Every day is an adventure in teaching and I absolutely love it!
Jack Hopkins – Teacher
Whilst volunteering at my local sailing club, instructing basic sailing skills to a group of new members, a retired head teacher quoted afterwards, "Jack, you should be a teacher!" This stuck with me throughout my school years as the only other thing I enjoyed apart from sailing was teaching people how to do it! I believe every child has the potential to find a passion and to be successful so I strive to make the classroom an environment where potential can be realised. I like children to feel safe, confident and excited about coming to school. I have taught across KS1 and 2 and can't wait for this year with Poole! Aside from teaching, as you probably guessed, I am a keen sailor. I have been part of the national team representing the country at various age categories. I raced to an international level and still (part time now) to a national level.
Collette Snape – Trainee Teacher
I joined Bovington Academy in September 2018 as a teaching assistant, now known as a learning support assistant. I have previously worked in various primary schools and private nurseries. I have had the pleasure of working across EYFS and Key Stage 1. Currently, I am working in Year 2 which I thoroughly enjoy.
Sue Matthews (SENCO)
I have been in education for a number of years, and it was early in my teaching career that I knew that both working within Early Years and also SEND are where my interests lie. All children and young people have the right to get the support they need to reach their full learning potential. I believe that we should have an inclusive educational system which focuses on overcoming barriers to learning and getting it right for every child. Some children and young people need additional support to benefit fully from their education and this is where my SENDCo role is so important. I am delighted to be working with such a committed and supportive staff and, of course, wonderful children. Bovington Academy is a happy, aspirational and safe place and is the heart of the community. I feel very privileged to be part of the Bovington 'family'.
Admin Staff
Paula Macdonald -Admin
I joined Bovington in January 2016 as an Administrative Assistant, I love working within the school environment, and although I am not classroom-based I find I learn something new about the children each and every day. Outside of work I enjoy spending quality time with my children exploring all the wonderful activities Dorset has to offer.
Pastoral team
Lowry Stone
Well, where shall I start? I've worked at this school for over 22 years, and now I'm beginning to see the children of the children I have taught come through the school! I believe passionately that all children need to feel safe, listened to and believed in. With this in mind my prime objective is to play a part in helping create a school where everyone has a voice, all children have an emotionally available adult ready to help them and that the school thrives within our diverse and ever changing community. I love music and singing and you can often hear me coming before you see me! I'm very excited to be studying music making with children and young people who  have or are at risk of social, emotional and mental health difficulties. Every day offers a new challenge and I look forward to embracing and adapting to whatever is needed to help our children, staff, families, school and community thrive
Rebecca Marshall
Having over 30 years of experience working with children aged between 3months and 11years, I am an advocate for children's emotional health and wellbeing . Originally training as a nursery nurse and owning my own day nursery, I joined Bovington Primary School in 2010 as a classroom teaching assistant. In 2013 I transitioned into my current role as a member of the pastoral/inclusion team. I support pupils who experience barriers to learning and their families, this includes working on a one to one level as well as group support.  Along with the whole Bovington team, I am passionate about providing our pupils with a positive and happy journey through Primary School.
HLTA
Kayleigh Guy
After 12 years of studying and working within education, I decided that it was time to follow my dreams and move to Dorset! Not one to do things by half, it was time for a new job, new home and new County! I became the newest member of the team in November 2022 when I started working as HLTA and this means that I have the privilege of working with every member of staff, class and all of the wonderful children here at Bovington! It's a very special role which means that I teach across every subject area with every year group from Reception to Year 6. I am very passionate about music and drama and so there is never a day where you won't hear me singing a tune or 6 and probably dancing along too! As you can imagine, music is therefore my favourite lesson to teach so I feel very lucky that I have the opportunity to share my passion for music with your children. Feel free to come and say hi, whenever you see me around school – I can't wait to meet you all!
Learning support assistants
Anna Dyson
I came to Bovington Academy after 15 years working firstly as a teaching assistant and then as a pastoral worker and deputy DSL in an infant school. I also fulfilled four years as a parent governor at Carter Community School in Poole. I am very much enjoying being back in the classroom. I have four adult sons and two granddaughters. In my spare  time I enjoy reading and tearing off down the A30 to my spiritual home of Cornwall where I managed a pub for several years.
Helen Bartholomew
Hi, I am Mrs Helen Bartholomew. I have been working as a 1-1 LSA for going on 23 years. I have worked in Germany, Cyprus and England. I enjoy all aspects of my job especially seeing the children grow and develop as the years go by.
Helen Wiles
I have been a Learning Support Assistant for around 20 years, initially as a Parent Helper when my own daughters started school.  I have worked in five different schools across the UK as I've followed my husbands' career, and in so doing I have gathered a wealth of qualifications and a depth of experience.  I have been with Bovington Academy for over 6 years and in  addition to my LSA role, I also run the school's Breakfast Club and until recently the After School Club too.
Claire Drakeford
I grew up in beautiful Dorset and have always been passionate about working with children. After completing my HND in Early Childhood studies at the University of Worcester I returned to Dorset to work in Early Years within a nursery setting. I then got married and moved to Germany where we started our family, and I am now a mum to three children. Our family have been posted in Bovington for eleven years with all three of my children attending Bovington Academy over the past ten years.  I have recently joined the incredible team here at Bovington Academy as an LSA after many years working as an early year practitioner within a nursery setting. I really love working within the early years, I find it so exciting, and no two days are ever the same! It is a huge privilege to be a part of the children's learning journey as they each grow into their own unique little characters, and I am passionate about supporting every child so that they are able to reach their full potential.
Jenny Pyman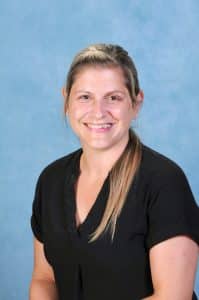 I relocated to Dorset in 2013 with my husband who serves in the military. We love living here and couldn't think of a better place to raise our family.
Before moving I worked in a few educational settings in and around Berkshire. I have recently started in my role as an LSA and can't wait to share my knowledge with the children in Bovington Academy.
In my spare time I love nothing more than spending the day on the beach and doing as much yoga as I can.
Maria Smeaton
I have been at Bovington for 10 years working as a 1:1 and LSA. Throughout my career, I have worked with children in a variety of professions from visiting families delivering an education program as a Portage Worker, to working on the children's ward in the county hospital. I really enjoy the daily challenges of supporting children in their learning, watching them grow with their knowledge and confidence for their futures ahead.
Rachael Sutton
I started working at Bovington in September 2022 and currently work in Year 1 Moreton class as an LSA, I have worked in Childcare and Education for 10 years – mainly in Early years settings. I have also worked in SEN schools. I have recently completed my Foundation Degree in Early Years services; I love to learn and find it a privilege working with children and being able to support them in their learning journey.
I have lived and worked in Germany and Cyprus before moving to Dorset which have been brilliant experiences as I love exploring new places.
Di Evans
I joined Bovington Academy in November 2022 initially as a lunchtime play leader whilst studying for a degree in Health Sciences. I began to help in the reception class with a child with autism where I soon felt part of the family. When that child moved out of the area I was encouraged to apply for the role in Year 6, where I am currently situated working with a small group of children finding ways to get the most out of their Year 6 experience!